We are very excited to announce that #1 New York Times bestselling author Scott McEwen will be keynoting and teaching at the 2015 La Jolla Writers Conference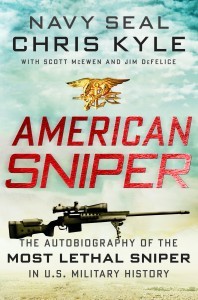 .
Author of American Sniper: The Autobiography of the Most Lethal Sniper in U.S. Military History, and several other military thriller novels, McEwen will be sharing his insights on coauthoring one of the most impactful stories in recent history.
Scott McEwen is a trial attorney in San Diego, California. He grew up in the mountains of Eastern Oregon where he became an Eagle Scout; hiking, fishing, and hunting at every opportunity presented. He obtained his undergraduate degree in Oregon and thereafter studied and worked extensively in London, England. Scott works with and provides support for several military charitable organizations, including the Seal Team Foundation.
Scott's interest in military history, intense patriotism, and experience with long-range hunting rifles, compelled him to accurately record the battlefield experiences of Chris Kyle, the most lethal sniper in United States military history.
To meet Scott, work on your own writing, and enhance your knowledge of the publishing industry, join use for the 2015 La Jolla Writers Conference from November 6-8 in La Jolla, CA.