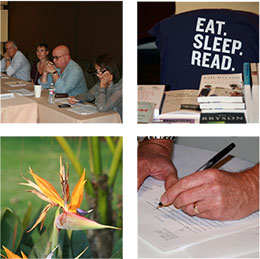 The 2015 La Jolla Writers Conference begins November 6 at the La Jolla Hyatt at Aventine.
Celebrating its 15th year, the LJWC is excited to release the full conference schedule that features 70+ workshop and lecture classes from New York Times bestselling authors, agents, and other creative business and faculty members.
Our conference offers two types of classes: Lecture sessions run for 50 minutes and Workshops run for 110 minutes. Each block period will be dedicated to either workshop or lecture style classes. During each block period, there will be approximately 5-6 different classes on various topics from which to choose, allowing for intimate class sizes and personal feedback. For most workshop classes, you are encouraged to bring written work for review and/or participation, though it is not required. Popular classes are repeated to ensure that you have a chance to attend. There will be approximately 80 original classes/topics offered at the conference.  Once registered for the conference, there are only three classes that require pre-registration on Saturday morning. Other than those three, you simply choose the class that most interests you during a particular block period and attend. Please note that classes begin at 1:00pm on Friday and end at 4:30pm on Sunday.
Space is still available so be sure to register today!
We look forward to celebrating our 15 year with you.