Location & Dates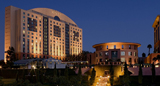 The 17th annual LJWC will be held October 26-28, 2018 at the beautiful Hyatt Regency La Jolla at Aventine, in San Diego, CA.
A limited number of rooms have been blocked and reserved for LJWC attendees at a special discounted rate beginning January 1, 2018.

Classes begin at 1:00pm on Friday, October 26, and ends at 4:30pm on Sunday, October 28, 2017.